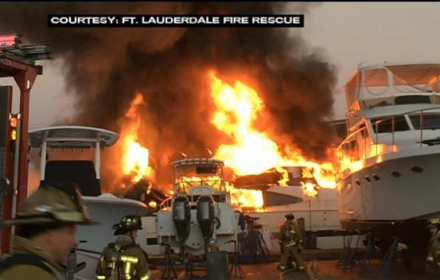 Fire is one of the greatest threats to any vessel, whether at sea or in the confines of a marina. A combination of factors, including: boat building materials, fuel, hydraulic fluid, chemicals aboard the boat, dead spaces and accessibility contribute to the difficulty in combating shipboard fires. Electrical issues are the leading cause of boat fires, accounting for more than half of the reported fires aboard vessels. Engine overheating, fuel leaks and the spread of fire from one vessel to another are the other leading culprits.
Every vessel owner should take a number of steps to avoid fires and prepare to combat them in the event they are confronted with a fire aboard their boat.
The avoidance of fires starts with proper maintenance and a thorough inspection of your boat upon commissioning and then continuously throughout the season of use. Periodic surveys and more detailed inspections by a professional should also be utilized. Additionally, hand held fire extinguishers and fire suppression systems should be continuously maintained and serviced as needed. There is nothing worse than having the proper equipment, only to see it fail when called upon due to being out of date or inoperable.
Atlass has taken a proactive stance with regard to shipboard fires and the proper training of our first responders. In conjunction with AIG Private Client Group, Roscioli Yachting Center, Resolve Marine Group and Fort Lauderdale/Davie Fire Departments, we have been able to help provide specialized shipboard training for local firefighters. Atlass has now sponsored a handful of training initiatives, after a successful launch of the program at the Rybovich Yard in West Palm Beach.
In the event that proper maintenance and fire suppression systems/extinguishers are not enough, our firefighters need to have the skill and knowledge to help minimize the losses associated with vessel fires. We hope to continue participating in such training events and that ultimately, this knowledge will be shared and spread to other coastal fire departments.